The search for kosher-for-Passover beer in Israel (and throughout the Jewish world) has gone on for several years. This year, the leading candidate is called
Tipple Hop
, a "Belgian Ginger IPA," brewed at the Oak & Ash (Buster's) Brewery in Beit Shemesh.
Jeremy Sulzbacher in Jerusalem,
during less contagious days.
Tipple Hop was developed by Jeremy Sulzbacher, a brewer who live in Antwerp, Belgium, with family and business connections in Israel. [Read more about Jeremy
here
.]
"We have been working on the recipes for these beers for five years," Jeremy said. "Some of Belgium's leading brewers and beer experts have assisted me in making a gluten-zero and kosher-for-Passover beer.
"One of the early challenges was to convince the kashrut authorities to recognize hops as kosher-for-Passover, given their association with the beer industry."
Jeremy was able to do this to everybody's satisfaction, and Tipple Hop has been selling successfully this year in Belgium and London. It was brewed in Israel later than planned because of the coronavirus, but is now available through the Buster's website and also at Beerateinu in Jerusalem and Beer & Beyond in Tel Aviv.
So what are we talking about? Tipple Hop is brewed with water, hops (Cascade and Brewers Gold), fresh ginger, sugars, honey, lime juice and yeast. It's a nice semi-hazy golden color with lively carbonation and a quickly dissipating head. The dominant aroma and taste comes from the ginger, but you also get some hop citrus and floral notes. The body is kind of thin, and the finish is very refreshing and satisfying.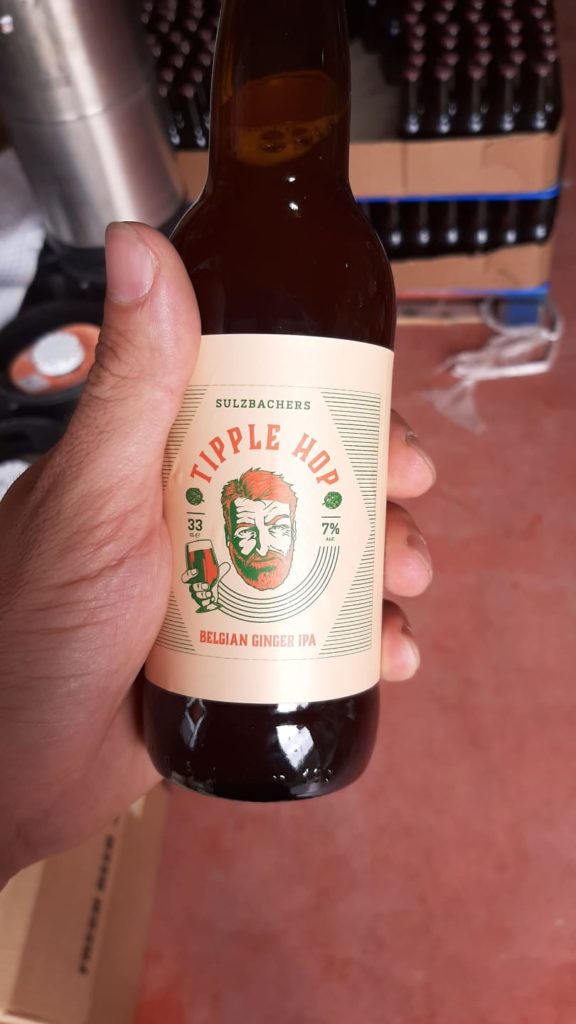 My problem here is the same I have always had with non-malt "beers." I put in the quotation marks after I ran back to my old Webster's New Collegiate Dictionary (1961) from my college days. Here's what it says about "beer":
"A fermented liquor brewed . . . from malt or from a mixture of malt and malt substitutes and flavored with hops or other bitter."
In other words, without the malted grain -- or even a mixture of the grain and something else -- it's not beer. Note, it doesn't have to contain hops, but it needs the malt.
So, Tipple Hop is a wonderful beverage, and I look forward to drinking it at my two-person Passover Seder on Tuesday and throughout the week-long holiday. But did I feel that I was drinking a beer? Very close, but no.
As I said, Tipple Hop is for sale on the Buster's website, and I believe if you order now, you can get your bottles before Passover.
Use this link to order a case of 24 bottles (300 shekels):
https://www.busters.co.il/product-page/24-bottles-ginger-ipa
Or this link for individual bottles (15 shekels each):
https://www.busters.co.il/product-page/ginger-ipa-kfp
The other KfP beer that was available in Israel was Meadan Date Ale. Though the Meadan Brewery itself ceased operation last year, the beers were brewed at the Oak & Ash (Buster's) Brewery in Beit Shemesh and were sold through the BeerBazaar home-delivery website. These are now sold out. [You can read more about that
here
, with links to earlier articles about Medan beer.]