Juha in Israel for the sixth time:
"Brewmaster - Journalist - Ukulele Guru"
Like most encounters these days, I first met Juha Väänänen on the internet. He was acquainted with my blog, Israel Brews and Views, and asked if I could help him prepare an article on Israeli craft beer he had undertaken for a prominent beer magazine in Finland, which is where Juha lives. Of course I agreed and I gave him some background information on the subject, while directing him towards micro-breweries and other locations of interest.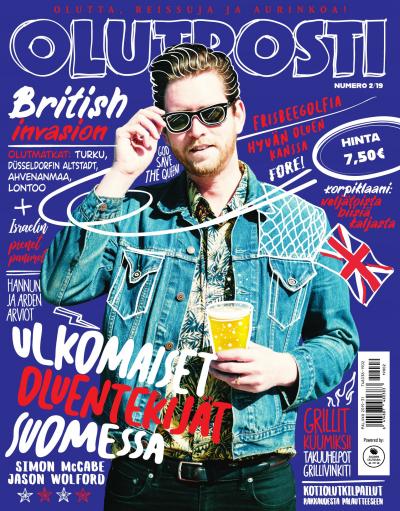 In fact, if you're one of the fortunate few who understand Finnish, you can read the article
in
Olutpost
i (2/19) and also in
Hakehila
(3/19), the journal of the Finnish Jewish community.

Juha and I kept up our contact and he told me how very rare it is for a Finnish publication to write anything positive about Israel. The Palestinian and Arab narratives have been accepted across the board, along with good old indigenous anti-semitism.
Juha himself is a proud and vocal supporter of Israel (which often gets him in hot water) who had visited Israel five times.
On his sixth trip, two weeks ago, we met.
His business card says that he is a "Brewmaster - Journalist - Ukulele Guru." He worked for several breweries in Finland and still does consulting work for some.
Juha gifts the old blogger with
Grönbacka craft beer from Finland.
I met Juha in the Beer Bazaar in the Machane Yehuda market in Jerusalem.

Though it was a cold November night, Juha was wearing sandals, short pants and short-sleeve shirt. "In Finland, this is springtime weather," he declared.

We toasted his safe arrival (with his wife and Wilma, his 14-year-old daughter) and our good fortune with some of the new Malka Oktoberfest beer. Two thumbs up!
He gave me three bottles of Finnish craft beer from the Grönbacka Brewery in Nurmijärvi, (which is also where Juha lives, some 20 miles north of Helsinki) and a copy of the memoirs of his father, a former Finnish politician. I promised to finish them all (pun intended).
Gronbacka craft beer
from Finland:
Orange Wheat,
Cascadian Dark Ale and
Lager.
Grönbacka is a very new brewery (established 2018) and run entirely by a father, mother and two sons. It produced about 50,000 liters of ten different beers in its first year. They are available only locally. Grönbacka is an ecologically minded brewery, using wind energy exclusively.
Juha gave me the Golden Wheat, Lager, and Cascadian Dark Ale (which is a better way of saying Black IPA), which I will soon be tasting.
Since we both are vegetarians, I suggested that we walk over to Beerateinu, where they were holding a month-long campaign to choose a vegan burger for their menu. You're served five different vegan mini-burgers prepared by chef Levi Laine, and then you vote for your favorite. At the end of the month, the burger with the most votes won.
Five vegan burgers at Beerateinu, Jerusalem.
Juha and I took notes and exchanged comments as if we were judging beer.
We disagreed on which burger was the best, but we did agree that the beer we had with the burgers was excellent: Shevet Brewery's Wee Laddie Scottish Ale and Ice Mann Helles Lager.
Juha and I parted as long-lost buddies, even though we had just met a couple of hours earlier. After they left Jerusalem, Juha and his family continued to tour Israel from Eilat to the Galilee and Haifa, and flew back to Finland a few days ago. He is a true lover of Israel and of good beer -- and that's a powerful combination.